I am aware that it is not Tuesday, yet I am still doing a top 5 feature. Days of the week don't control me.
Gen5 has been criticized from the very first silhouette leaks of the new starters for having horribly stupid-looking Pokémon. All I really have to say to that is HAVE YOU LOOKED AT GEODUDES? THEY ARE ROCKS WITH FISTS. Also, stop taking a video game targeted towards people 1/3 your age so seriously (like I'm one to talk.) Anyway, these are my five favorite Pokémon from yet-to-be-released-in-America Black & White!*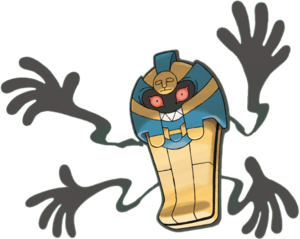 #5. Desukan / Cofagrigus
Kudos to Nintendo America's translation team for creating a nearly-impossible-to-pronounce American name for this guy. Co-fa-gri-gus? It doesn't exactly roll off the tongue. I've always loved Egyptian-style stuff, and this has the added bonus of letting me imagine that Lucy from Elfen Lied is trapped inside a sarcophagus.
#4. Shinbora
Bulbapedia suggests that the inspiration for this Pokémon comes from Nazca lines and Kachina dolls. I choose to believe that Shinbora is the product of a drunken night between a Xatu and like, 3 or 4 Unowns.
#3. Goruugu
This Pokémon is like one of the kind-hearted robots in the Robot Circus that helps Astro Boy come to terms with the fact that he's a hated piece of garbage that was disowned by his creator. I'm not sure if that actually happened in Tezuka's manga, but it should have.
#2. Shimama / Blitzle
It's an electric zebra with a mohawk. Electric zebra. Mohawk. Also it kind of looks like David Bowie, if he was a zebra.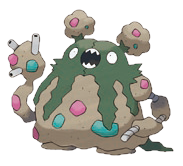 #1. Dasutodasu
Oh god. God, yes. Nintendo obviously listens to my prayers, because they actually designed a Pokémon that is
a big bag of garbage
. LOOK AT THIS THING. I mean, look at it. It is obviously the product of hours of brainstorming as to what a bag of vomit and entrails might look like if it gained sentience. AND IT IS GLORIOUS.
*I thought really hard about purchasing Japanese copies of Black and/or White so I wouldn't have to wait until March. Then I realized that Japanese DS games cost twice as much as American ones. I also realized that I would have finished it and likely gotten sick of it by the time all my friends were playing it, and I would end up being ostracized as a Pokémon hipster when I inevitably told them, "I already finished that game
months ago
because I can read Japanese." Then they'd all go off to play and trade together and I'd be left alone. :,(